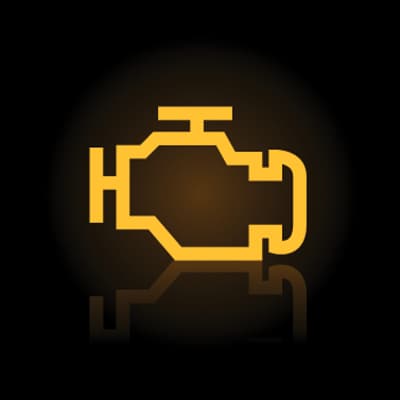 If you find that your check engine light is on, there could be several reasons for it.  Before you get worried, make sure your gas cap is secured.  Sometimes, if you have not turned the gas cap enough "clicks", it can illuminate the "check engine light" on your dashboard.
If tightening your gas cap does not resolve the issue, next, pull over to a safe spot and further inspect your vehicle.  Check your other dashboard gauges and inspect the vehicle for signs of a serious problem such as low oil pressure or overheating.  Also check your oil level and lights.  If you cannot find anything visibly wrong and have not experienced any issues such as loss of power or over heating, you may continue to drive if you feel safe and schedule an appointment with your service advisor to have the vehicle inspected as soon as possible.  
If, however, you do notice any performance problems, loss of power or overheating, get your car checked as soon as possible.  If you feel safe to drive, reduce your speed and load (do not tow anything).  If you feel unsafe to drive, keep your car parked in a safe spot and call Chrysler Roadside Assistance or AMA for help.