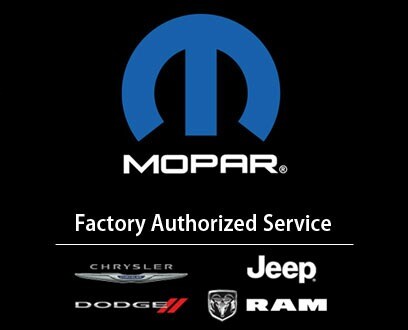 All work performed by Chrysler trained Technicians.
SEASONAL SERVICE PACKAGE SPECIAL - Starting at $79.95

Includes oil change, tire rotation, Brake check, 15 point inspection & up to 5 liters of oil (excludes dually and diesels)

OIL CHANGE - Cars and Light Trucks starting at $56.48

 Includes up to 5 litres of oil and a 15 point inspection
            Synthetic Oil from $138.98
            Diesel Truck  $120.95
            Diesel Truck Synthetic  $174.95
TIRE BALANCE - $24 per wheel

TIRE ROTATION
- $34.00 for 4 wheels, $46.00 for 6 wheels
TIRE REPAIR - $34.95 including patch
4 WHEEL ALIGNMENT - $129.95

We sell all brands of tires at a discounted price.  We offer free nitrogen inflation when you purchase a set of four tires from us with complimentary nitrogen top-ups for the life of the tires. 
TUNE UPS

Basic Tune Up: Includes scan test, check PCV, cap, air filter, wires and replace plugs.  *Price does not include parts.  Plugs and fuel filter are extra.
4 Cylinder $144.95*
6 Cylinder $169.95*
8 Cylinder $189.95*
THROTTLE BODY SERVICE
- $99.95
INJECTION PURGE
- $89.95
CARAVAN EMISSIONS TUNE-UP
- $638.00
120,000km
Includes scan test, oxygen sensor, platinum plugs, ignition wires, throttle body service & injection purge

COOLING SYSTEM FLUSH
- $159.99
Includes chemical kit
Diesel & V10 extra

WINDSHIELD REPLACEMENT
Quotes for windshield replacement are available on request. All windshields are installed on site by our trained technicians.
ROCK CHIP REPAIR
- First chip $35.00, each additional chip $9.00
SAFETY INSPECTION
- $198.00
OUT OF PROVINCE INSPECTION
- $198.00
RE-INSPECTION
- $99.95
Schedule Service
* Indicates a required field