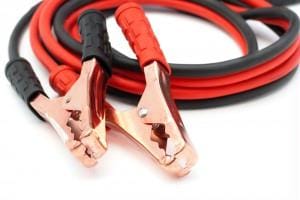 If you have ever gotten into your vehicle only to find out it won't turn on or is just barely turning, your car battery is most likely dead.  To get moving again, you will need to boost your car.  To do this, you will either need a pair of jumper cables and another driver with a vehicle that is working, or, you will have to call your Roadside Assistance provider for a boost.  Likewise, if you car battery won't charge or is frozen, call Roadside Assistance.
There are several reasons a battery could be dead including leaving on electronics or lights, not starting your vehicle for a long period of time and even cold temperatures which cause batteries to freeze.  Country Chrysler recommends having your battery assessed at your local service department if you ever run into the situation of your battery being dead. 
By bringing your vehicle in, a service expert can inspect both your vehicle's battery and charging system to further assess reasons for the battery failing.
---

Related Reading:
Why Is My Check Engine Light On?
Why Is My Tire Pressure Light On?
Why Is My Car Burning Oil?