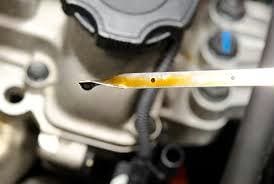 When you are checking your oil, make sure your vehicle is level and the engine is turned off.  It is best to check the oil in the morning when your vehicle is cool and in a brightly lit area.
Open the hood of your car and secure it. 

Next, find the oil dipstick (check your user's manual for information) - the dip stick usually has a handle on it and says OIL.
Pull out the dipstick and wipe it clean on a paper towel or rag. 

Re-insert the dipstick into the oil and ensure it goes as far in as possible.
Pull out the dipstick carefully - do not turn it upside down.
Read the oil level: look for two marks at the bottom of the dipstick - usually the words ADD and MAX. The oil level can be read by looking to see where the oily part ends and the dry part begins.

If your oil is above the ADD mark, your oil level is good. 
If your oil is just below the ADD mark, you can either leave the level alone and recheck at your next fuel up or add a bit of oil.

If the oil is well below the ADD mark, you need to add oil. Add a bit of oil at a time because too much oil can be worse than too little.
Schedule an oil change
Related Reading:
When Should I Check My Oil?
Why is My Check Engine Light On?
Is It Safe To Switch To Synthetic Oil?