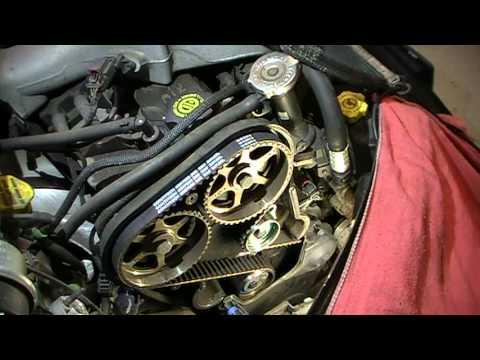 Country Chrysler absolutely recommends that you replace the timing belt of your vehicle.  We suggest that the timing belt be replaced every 100,000 km.

Internal combustion engines have valves that open and close; these valves are controlled by synchronized movement between the crankshaft and the camshaft(s).  Synchronized movement is controlled by a timing belt, a timing chain or gears that directly drive the camshaft.

Timing belts are specifically designed for particular engines.  In some vehicles, the timing belt will also be responsible for driving the oil pump and the water pump.  Timing belts are lighter and less expensive than timing chains.  They operate quietly, are efficient and do not need lubrication.  Timing belts are made of rubber and high-tensile fibres such as fiberglass.

Rubber, however, deteriorates over time.  If the rubber wears enough, it will cause timing belt failure most likely through stripped teeth or the unraveling of the belt fibers.  If the timing belt breaks, some valves will remain open when they should be closed, allowing the pistols to strike them; this will cause substantial and possibly irreparable damage to the engine.

Therefore, we highly recommend that you have your timing belt replaced every 100,000 km.


Related Reading:
Why Is My Check Engine Light On?
Why Is My Car Burning Oil?
When Should I Check My Oil?