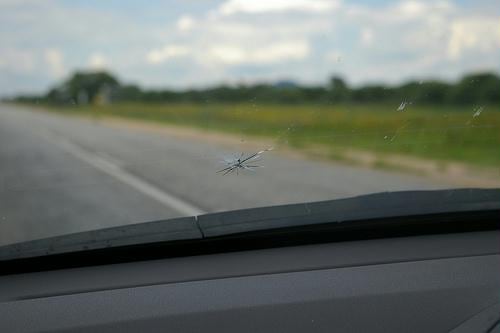 If you drive, chances are a rock will hit your windshield at some point and you will end up getting a "stone bruise" on the glass.  In the event that the impact creates an actual hole or cracks to a point of  decreasing your ability to safely see out your window, you must get your windshield fixed as soon as possible.  If it is unsafe for you to drive, call your Chrysler Roadside Assistance or AMA for help.
If the rock impact creates a small chip, Country Chrysler recommends adhering a piece of clear packing tape across the chipped area.  Taping the rock chip will stop moisture from getting into the broken area and causing the chip to crack and spread.  Contact your local service department or glass repair shop to arrange for windshield chip repair.  Alternatively, if you live in an area where there are windshield chip repair kiosks, you may prefer to do that.  Keep the tape on the chip until the chip can be repaired by a glass repair specialist.
Country Chrysler offers chip repair service for $35 for the first chip repair and $9 for additional chip repairs.
Schedule a windshield chip repair or replacement

Related Reading:
My Windshield Fluid Is Frozen
Can I Replace My Headlights With Bright Lights?
My Windshield Wipers Stopped Working