The 1950s were a decade of power for Dodge and brought several improvements to the aesthetics, functionality and capability of Dodge vehicles, including the introduction of Dodge's first V8 engine.  Engines got stronger and more powerful, and styling became sleeker.  Power steering, automatic transmission, power brakes, electronic fuel injection and even tinted glass were some of the innovative options that appeared in Dodge vehicles during the 50s.  
In 1953, Chrysler hired a new design chief, Virgil Exner.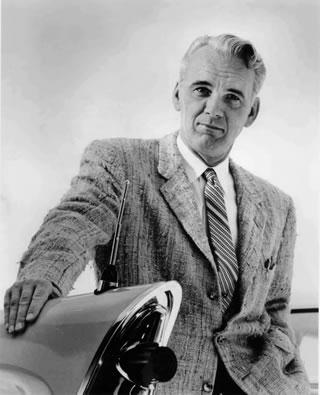 With an impressive background in advertising and automobile design, Exner would be the first actual designer with an art background to design Dodge vehicles, as they had previously been designed by engineers.  Exner's first designs would be released in 1955 and were termed the "Forward Look".   Vehicles with the Forward Look looked sleeker and more aggressive and commonly incorporated enlarged fins, lowered rooflines and shorter decks, as well as the "New Horizon" wraparound windshields.  The Ram hood ornament introduced in 1931 was mostly dropped from vehicles; rather, it remained an aftermarket accessory for Dodge trucks.  Exner was only with Chrysler until 1962 after he disagreed with a styling request and ultimately, retired.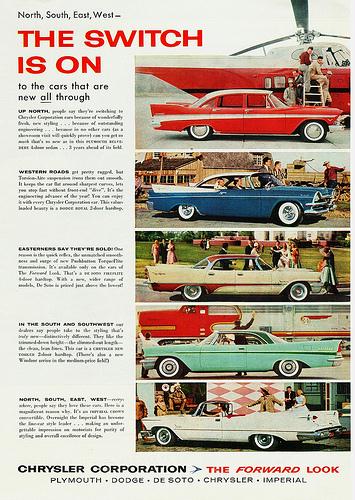 Probably the most exciting change of the 1950s was Dodge's introduction of its first V8 engine, the Red Ram Hemi.  The Red Ram was a smaller version of Chrysler's first hemi, the FirePower, released for the 1951 model year.  Chrysler had originally experimented with hemispherical-combustion-chambered engines during WW2 for fighter aircraft.  The 1953 V8 was Dodge's first eight-cylinder engine since its straight eight in the 1930 Dodge Brothers Eight.  In comparison, the Red Ram Hemi V8 offered 140 horsepower while the Doge Brothers Eight straight 8 offered 75 horsepower.  
By 1954, in Dodge's 40th anniversary year, the Red Ram Hemi would deliver 150 horsepower.  The dramatic shift to power and styling propelled Dodge to compete and win at stock car races.  With the release of its famous D-500 power package, 1955 saw some of Dodge's fastest and most powerful cars ever.  The D-500 power package originally included the super-powered Super Red Ram (later dropped to just D-500) and by 1956, offered 260 horsepower.  By 1957, the D-500-1 engine would offer an amazing 340 horsepower, securing a top-place for Dodge in the racing circuit.  By 1959, Dodge engines delivered an incredible 354 horsepower: two and a half times the horsepower of just six years before.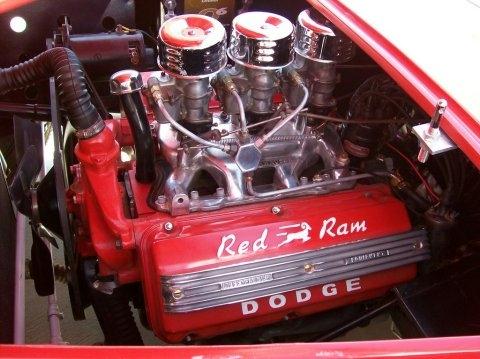 The 1950s also brought important changes for trucks. The B-Series pickups, which found their roots in WW2, were still made until 1953 when they were replaced by the C-Series pickups.  Completely redesigned, the new Dodge C-Series of trucks introduced in 1954 were the first trucks to have a V8 engine and offered 110 horsepower.  Another important truck moment of the decade was in 1957 when Dodge began to follow the industry standard nominal rating system by calling its half ton pickup D100.  In 1959, Dodge introduced a new engine that offered 205 horsepower.  Improvements offered throughout the decade included a fully opening hood, power steering, power brakes, 12-volt ignition system, tubeless tires, a sweptline cargo box and a push-button automatic transmission. Trucks also underwent design changes under Exner's Forward Look.