Hello! Would you like to leave a testimonial? Click
here
to find out how.  Thank you!
 "Helpful and friendly"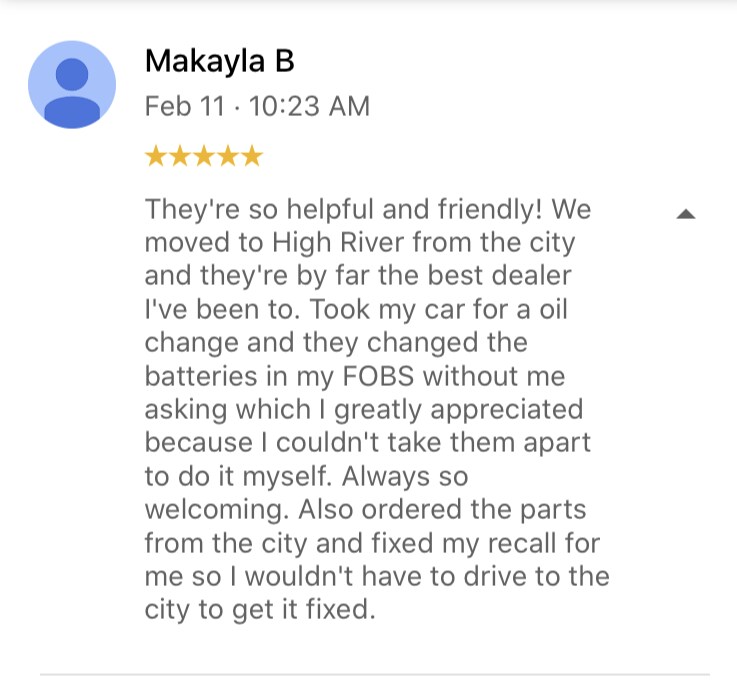 February 11, 2020
"They go the extra mile for you"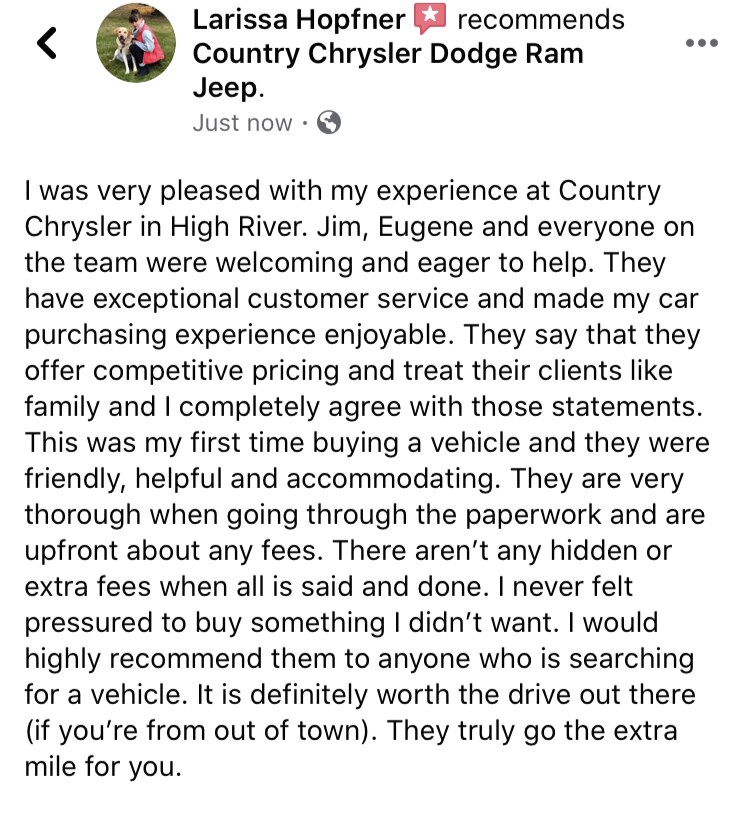 February 10, 2020
"Worth the drive from the city"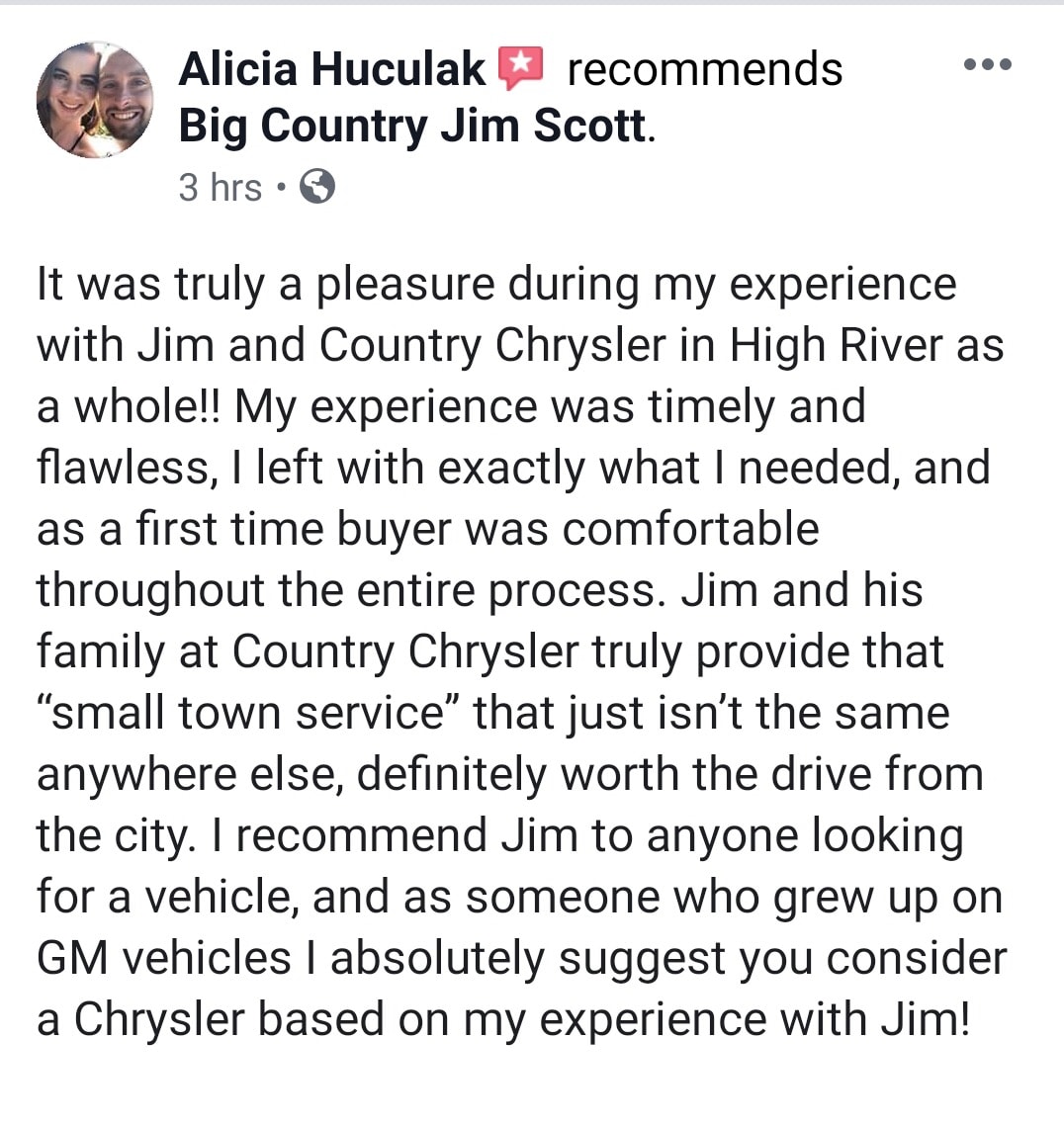 TAKE THAT SHORT DRIVE FROM THE BIG CITY.
May 26, 2017

'If you want great service, friendly staff and great deals it would be best to take that short drive from the big city and save some money. Thanks Country Chrysler...'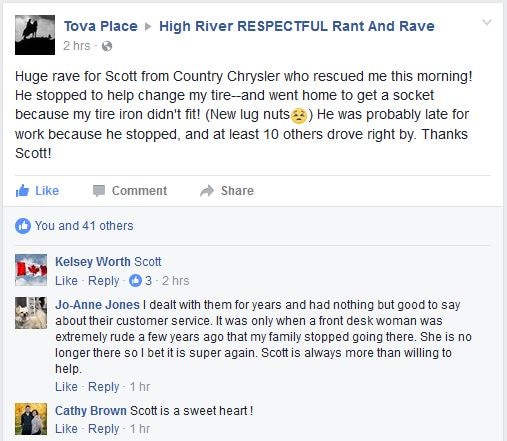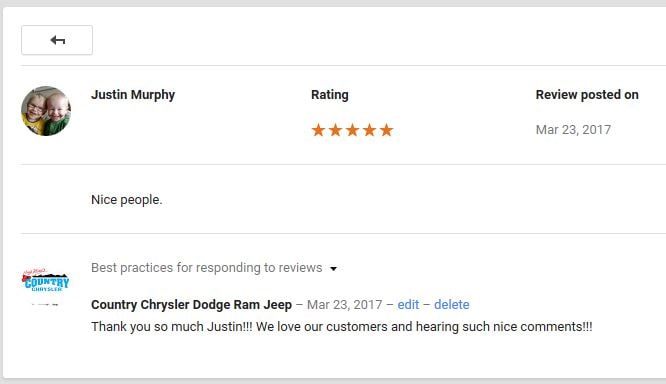 THE BEST SALESMAN I HAVE EVER DEALT WITH.
March 20, 2017

Shout out to Stewart Anthony! In the 31 years of driving, I have purchased many vehicles (several them being new). I have to say that your salesmanship is by far the best experience I have ever had. You showed me patience and treated me with respect along with no pressure sales. We will definitely recommend you and Country Chrysler if any of our friends or family are in the market for a vehicle. Thank you again! The truck is awesome! Stewart is by far the best salesman I have ever dealt with. Highly recommend him. Thanks again Stewart! We love our new Truck. Thomas & Amanda


WONDERFUL CUSTOMER SERVICE
January 15, 2017

A big Thank You to Glen and the staff at Country Chrysler for matching our family up with the perfect new truck! We are over the moon excited!! Thank you for the wonderful customer service, an amazing experience. - Adrienne Maerz

NO-PRESSURE SALES & EXCEPTIONAL SERVICE
August 6, 2016

From Facebook:

I would like to say thank-you very much to Stewart Anthony,I purchased a 2015 jeep cherokee limited today,the sevice and no pressure sales,really made my vehicle purchase experience enjoyable.The service was exceptional and fun.I love my new vehicle!!!!!!!!! Thank-you High River Country Chrysler. - Melissa Stone


COUNTRY CHRYSLER BEST FOR BUYING NEW TRUCKS & SERVICING THE OLD

July 6, 2016
From Facebook:
Thanks Dave and Brian for making it a pleasure purchasing the new tr

uck. Loads of power and awesome comfort. After 10 years and 418000 km it was time to retire the old gal. Thanks Scott and crew for keeping the 2006 running like new. - Trevor Lloyd
NEW RAM 3500

May 11, 2016


THE STAFF HAS BEEN AWESOME

May 3, 2016


EXCEPTIONAL EXPERIENCE

April 29, 2016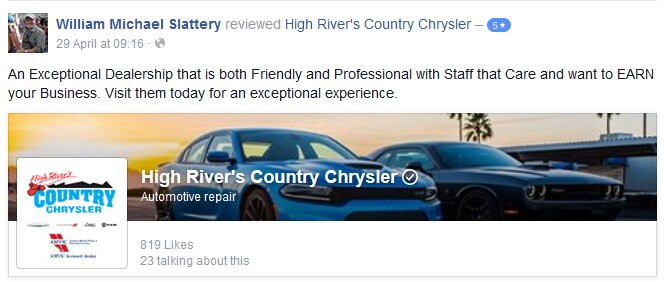 EXCELLENT SERVICE

April 11, 2016
I am writing this from Texas and wanted to recount our experience with your service department.
Of course our review is biased/influenced by the fact that the air conditioning problem was resolved successfully, but we were not expecting an immediate solution, merely a best guess analysis for the solution. We figured we would have to wait till Texas for the actual repair.


We want to commend the staff for their immediate attention to us as distressed traveller's away from home base. This was the first use of the air conditioner this season and the trip ahead was long and possibly very warm. The staff became aware of our circumstance and treated us with sympathy for our situation and time concerns. We were only starting the day's journey.


We went for lunch, appreciated the shuttle personnel - pleasant and helpful. Came back to excellent news that the repair was completed.


Thanks to all !!!


At any rate, YOUR DEALERSHIP scores 10/10 from our EXPERIENCE. Thanks again to your staff - and tell them to keep smiling and friendly, it provided and pleasant valuable upgrade to our interrupted trip.


John and Sonjia Burns
Beaumont, Alberta

LOVING MY DODGE CHALLENGER
Feb. 24, 2016

"Just a quick note, Brian thanks for all your help purchasing the Challenger, great car love it, you were fantastic to deal with. Linda your an awesome finance lady, thanks so much for all your hard work and advice, great experience at your dealership. I will definitely be recommending your dealership to friends and family as well as the one I work lol. Thanks again so much take care."- Jeff B.


TWICE THE LOVE

Feb. 2, 2016

"
Good morning Scott.
I just picked up my truck at your dealership for a service today.  What a surprise to find a gift in the passenger seat of a set of Mopar mugs.  Nice touch!

More importantly though is the superb customer service your staff give and the integrity that shows through their work.  I did not purchase my truck through your dealership but I started taking it there for service last year and because of the way your staff has treated me and my truck, I won't go anywhere else!  I also will be certain to purchase my next Ram truck from your dealership and recommend you to all my friends and family.
Thank you to your staff for giving me back some faith in dealerships!  I'll be sure to Yelp this review as well.
All the best,
Clint Kniss"



ABSOLUTELY FANTASTIC EXPERIENCE
Feb. 1, 2016
NOW THAT'S SERVICEJan. 8, 2016NOW THAT'S SERVICE
Jan. 8, 2016


Oct. 25, 2015
VERY PROFESSIONAL

Oct. 25, 2015


I AM SO HAPPY WITH THE SERVICE WE GOT WHEN BUYING MY NEW JEEP

Sept. 24, 2015




VERY PLEASED WITH MY DECISION TO MAKE THE DRIVE OUT THERE
Sept. 23, 2015



GREAT SALES SERVICE!
August 26, 2015


THANK YOU SO MUCH FOR TAKING CARE OF MY JEEP
August 9, 2015

300,000 km & STILL LOVING MY TRUCK
July 27, 2015

HAPPY KIDS, HAPPY MOM
July 20, 2015


Very happy kids!!! Thank you High River County Chrysler!!!! Thank you Don!!!!


EXTREMELY EFFICIENT & HIGH QUALITY SERVICE
July 2, 2015
GOOGLE 5-STAR REVIEW
May 17, 2015

GET TREATED THE WAY CUSTOMERS SHOULD BE TREATED
April 2, 2015


A SECOND REVIEW FROM ONE CUSTOMER: OUR EXPECTATIONS ARE ALWAYS MET AND USUALLY EXCEEDED
Mar. 3, 2015
SERVICE HAS ALWAYS BEEN OUTSTANDING
Mar. 2, 2015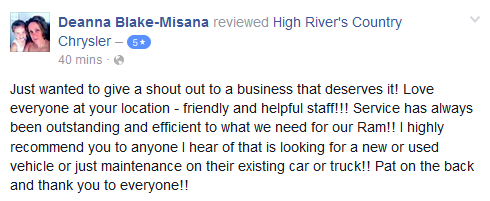 A SMOOTH AND EFFORTLESS BUYING EXPERIENCE
Feb. 17, 2015

WE HAVE PURCHASED 12 VEHICLES FROM COUNTRY CHRYSLER
Feb. 17, 2015
My wife and I are on vehicle #12 (10 for us and 2 for our children) purchased from Country Chrysler since 1998. We don't bother shopping else where. There are very few salespeople that "get it". Don Mills gets it!
I should also add that Country Chrysler offers the full package - comfortable sales experience and superb after sales support. The dealership management and the sale's team are only as good as their service and parts team. I have never been disappointed by the service/parts team - big thanks to Scott and the crew.
Brian Crundwell
DON MILLS IS A STAND OUT SALESPERSON
Feb. 9, 2015
Thank you to customer Conor Tapp for not only writing a positive review of our sales consultant Don Mills, but for also comparing why the way we do business versus how other dealerships do business works.  Read the full article here:
Fundraising - the used car sales method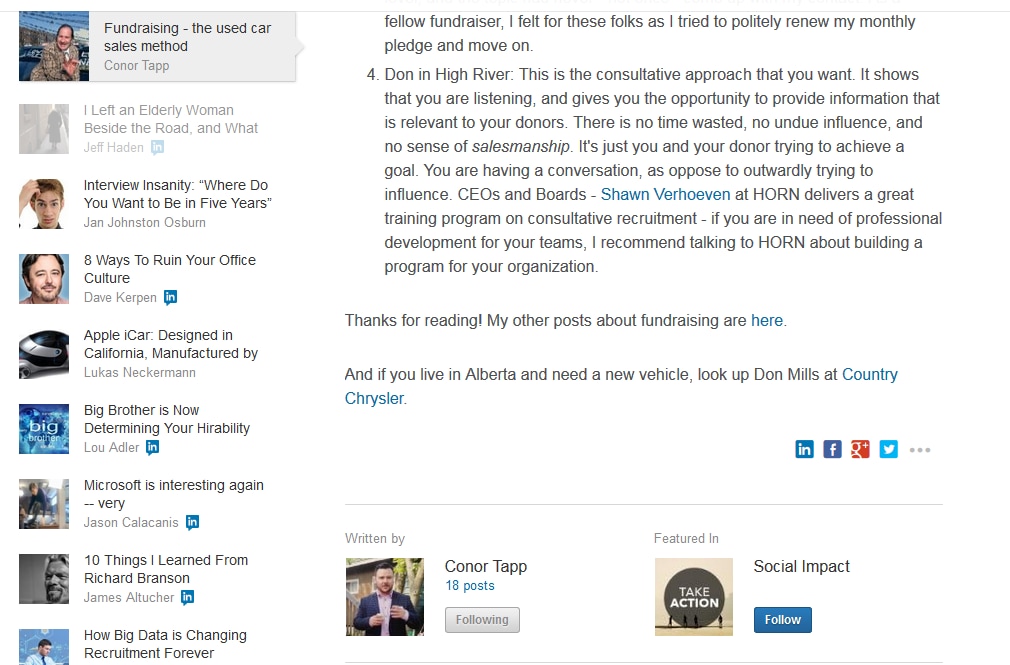 FANTASTIC TRUCK
Nov. 27, 2014
EMPLOYEES TAKE PRIDE IN THEIR JOBS
Nov. 14, 2014
GREAT SERVICE!
Nov. 6, 2014
Dear Country Chrysler,
I have had my vehicle serviced by you a few times now and every time I tell myself I am going to write to you about how impressed I am! Today, I had such a great experience, I finally made myself write.  First off, I appreciate that you will service my Hyundai even though you are a Chrysler dealership.  Living in High River, I was recommended by a friend to come to your store and am so happy I did.  Yesterday, Melanie went above and beyond to help me figure out if a part I need replaced was still covered by warranty with Hyundai.  The gang in the back did a great job getting my snow tires on and I really appreciate that you were able to recycle my tires for me! Thank you so much for your extremely customer oriented service!
Samantha G.
THANK YOU CARD
Oct. 14, 2014

A FUN AND LIGHT HEARTED EXPERIENCE

September 24, 2014
LOVE MY NEW JEEP

July 8, 2014
"Dave and Staff,
Thank you for helping me with my new jeep. I love it :)
Kasandra Brolund
"


WILL RECOMMEND COUNTRY CHRYSLER EVERY CHANCE I GET
June 27, 2014
"Good Morning Scott
Just a few words of my appreciation for the way you manage your service department. As you are aware, I was recently experiencing some automatic transmission concerns with my 97 Diesel Pick-up. You had your tech's check it out and they could not find anything really wrong with the transmission (no excess filings, etc). You suggested that the shuddering problem might be caused by the Universal Synthetic Automatic Transmission Fluid that I was using. You changed the fluid to ATF+4 fluid and the shuddering stopped. You not only saved me $5000.00 for a new transmission but gave me back a fully functional Pick-up.
I will be sure to recommend Country Chrysler every chance I get.
Thanks Scott,
Mal Kirkland"
IN DODGE WE TRUST
May 11, 2014
"Hi Scott and Don,
The girls were cleaning their trucks and it ended up in a photo shoot.  The girls love their standard trucks.  All I could say is, IN DODGE WE TRUST.
Thank you for your support and the creativity it sometimes takes.
Joan, Carucha and Valeska Bak
High River, AB"