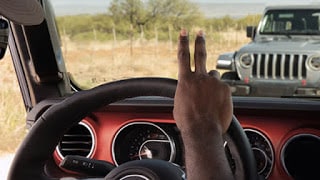 Jeep Wranglers and Gladiators are many things to many people: rugged, dependable, exciting. They are also very customizable. New and old alike, Jeeps can be adjusted, tweaked, and modified like virtually no other vehicles on the market. From tires to suspension to just about every accessory you can think of, Jeep parts can be changed and swapped out to meet the user's every need and desire. But, when done with aftermarket parts or outside of certified FCA repair shops, these modifications can leave Jeep owners with a major headache when it comes to warranties.
Every new Jeep vehicle comes with a 5-year or 100,000-kilometre* fully transferable Powertrain Warranty with a $0 deductible and 24-hour roadside assistance. The Basic Warranty coverage is for 3 years or 60,000 kilometres*, with rust-through coverage on all body sheet metal for 5 years or 160,000 kilometres*. The Cummins® Turbo Diesel engine available in some Jeeps is protected by a separate Limited Warranty, covering the engine for 5 years or 160,000 kilometres*.
However, once you start fiddling with parts outside normal maintenance and repair, you may find yourself inadvertently voiding parts of the warranty. For instance, suspension lift kits and shocks are a popular item to upgrade on Jeeps to increase offroad clearance or change the ride and handling. If done without MOPAR parts and/or by a non-certified mechanic or shop, changing these may very well invalidate the warranty on your vehicle if the damage or failure normally covered under the warranty was caused by the replaced parts. This could leave you with an expensive bill should anything go wrong with or because of the modified parts.
Another issue to be aware of is simply changing too much on the vehicle without proper thought and care. A vehicle's eligibility for warranty service could become void if it has been extensively damaged or modified to the point that it cannot be repaired to conform with manufacturing standards. For instance, oversized tires on a lifted suspension could potentially put too much strain on the axles, control arms, brackets, or even the engine, causing a failure that wouldn't be covered under the normal warranty.
For Jeeps outside of the factory warranty, modifications aren't as much of an issue, though they could still come into play on any extended warranties or auto repair coverage plans you might have on the vehicle.
Under all circumstances, though, you should be judicious and use quality parts and qualified mechanics and shops for work on your Jeep. We recommend using only MOPAR parts and FCA-certified service shops for service, repairs, and other work on your Jeep. We also recommend contacting your Jeep dealer if you have any questions regarding your warranty. If you're in the High River/Okotoks area, contact us at Country Chrysler Dodge Ram Jeep and we'll be happy to help.