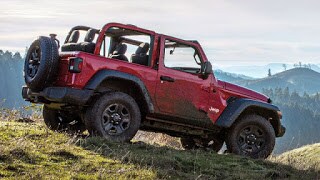 Are you tired of the same roads and highways you drive every day? Are you sick of seeing the same houses and stores? With the weather starting to warm up, maybe you're longing for a more adventurous path? Does a little off-roading sound fun?
If you're interested in off-roading, especially Jeep or Ram truck off-roading, let's run down a few things you'll want to know before getting started. Off-roading is fun and exciting, but it can be a bit dangerous until you get the hang of it. With a little preparation, you can safely enjoy Alberta's trails in your vehicle.
Start off easy
You may be used to a few potholes here and there on your daily drives, but off-roading introduces unstable and uneven terrain, rocks, holes, and plenty more than can ruin your suspension, axels, and the underbelly of the vehicle. Be careful when you go off-roading and take your time; drive slowly to avoid any catastrophic damage.
Get to know the trail
If it's at all possible, check out your off-roading destination before you begin to note any massive dips, ruts, and ravines that may be waiting for you. You don't want to find out the hard way that what you thought was a shallow mud puddle is a lot deeper than you thought and get stuck. You should also make sure your vehicle is ready for the road or lack thereof. There are online groups and forums for off-roading enthusiasts who are often more than happy to offer tips and guidance on trails, especially popular nearby areas such as McLean Creek, East Willow Creek Trail, or the Lille Ghost Town Trail.
Know your vehicle
Not all vehicles are meant to go off-road. Even the ones that are ideal for off-roading, such as Jeeps, should still be serviced before your trip to avoid any costly damage. Knowing the height of your vehicle is imperative to keep the underbelly safe and secure. You may also want to consider adding a lift kit to your vehicle for additional height clearance.
As always, check your fluid levels, brake pads and lines, and all other components; you don't want to break down in the mud, miles from civilization.
Pay attention to the weather
We all know how cold it gets in the winter in Alberta. It's best not to go off-roading when it's snowing, especially for a beginner, as your visibility will be greatly reduced. Once the warmer months hit, it's still best practice to monitor the weather so you don't get caught in any floods. Rain can be the difference between a shallow stream or a raging river you might need to cross.
Be prepared
Make sure you have external phone chargers, a GPS, water, food, an emergency roadside kit, backup fuel, recovery straps, a first aid kit, gloves, and blankets; you may also want to invest in a winch and D-rings, in case you or a friend gets into a sticky situation. It's better to have it and not need it in the event of a breakdown where you're left stranded. It's also recommended to take a friend with you; buddy up!
Get the right vehicle and options
If you're considering off-roading as a hobby, but don't have the vehicle for the task yet, High River's Country Chrysler Dodge Jeep and Ram dealership can get you in the perfect vehicle for you. We have a full lineup of Jeep and Dodge Ram models that are sure to please. Contact us today for more information, or visit our online showroom and get pre-approved for financing to get your new Jeep or Dodge even faster!