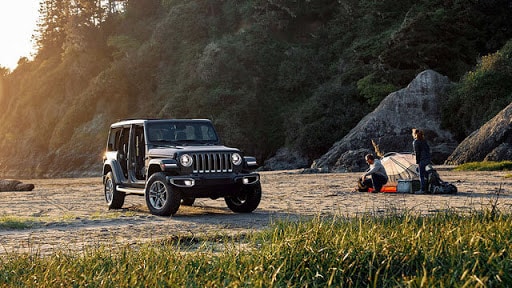 The warmer months are just around the corner, and if the adventure bug has bitten you and you can't wait to get outside after (most likely) too much time spent inside due to the pandemic, do we have the vehicle lineup for you.
When you get right down to it, there is no wrong choice when you buy a Jeep; it's all just a matter of preference and what you want to do. Are you looking for a rugged vehicle that can go over rocks, mud, and trails to go where few people go? Or do you want a roomy and luxurious experience for a cross-country road trip that you'll look back on fondly for years to come?
Jeep Wrangler
The classic. The original. It's likely the Jeep you picture in your head when you hear "Jeep." When the summer sets in and the hot air is a bit much, there's nothing quite like jumping into your Jeep Wrangler with the doors and top off and causing around town or up and down the highways to feel the wind rushing through your hair. Jeep Wranglers are one of the most fun vehicles you can choose for city or off-road driving; these powerful machines were made to go over rough terrain and unpaved roads to get you closer to nature.
Jeep Gladiator
If you want more of a pickup truck without sacrificing the fun of a Jeep Wrangler, the Gladiator is your best bet. We've talked previously about the Gladiator, but the basics are it's the perfect marriage of a Wrangler and a pickup truck, so you get all of the fun, power, and adventure with added storage space (and a sleek design). You can also take the doors and top off of this one!
Jeep Grand Cherokee
If you want to take a road trip and not go too heavy into off-roading, the Jeep Grand Cherokee is the vehicle you want to ride in. Plenty of space, luxury features, and all of the comforts of a hotel in a car, the Grand Cherokee is a dependable SUV that will comfortably carry you wherever you want to go and by whichever roads you want to take.
Naturally, we have plenty of other models of Jeeps available, but we feel these three highlight the spectrum and fun that Jeeps offer. Come down to our Jeep dealership and find the right vehicle for your needs, and select from a number of options to customize it to your liking and needs!